Professional Learning
Looking Forward to SDIT 2022
Celebrating over 25 years of SDIT, the Institute is designed for educators, dance teachers, arts specialists, and therapists who wish to deepen their understanding of the vital link between movement, emotions, and learning. Gain confidence in combining the mastery of movement with the artistry of expression. Explore cutting edge dance pedagogy and best practices in the ever-evolving laboratory of SDIT as you immerse yourself in Anne Green Gilbert's teaching methodology, Brain-Compatible Dance Education and the BrainDance. SDIT joyfully celebrates and nurtures creativity, self expression, collaboration, and community. Strengthen your teaching practice while recharging your batteries through embodied learning. SDIT bridges pedagogy and somatics in a clear and accessible way – participants leave renewed and transformed.
Foundational Course
Foundational Two-Week Course: This course covers Anne Green Gilbert's Brain-Compatible Dance Education methodology with depth and breadth and is great for anyone wanting to explore these methods and put them into practice. We understand some people may be nervous about committing to a two week course. During the many years of SDIT everyone who has attended the Foundational course has been extremely pleased. Many have wished that SDIT was even longer! Participants have returned for the two-week course after taking the five-day Refresher course. Some participants so appreciate the depth of this course, they return for the Foundational experience again. The two-week SDIT is an opportunity to connect, create, and collaborate and is a lot of fun! The number of participants is limited.
Who is teaching: The two-week course is led by Anne Green Gilbert with Dionne Kamara. Read their full bios below.
Refresher Course
Refresher Five-Day Course: The Refresher Course is for returning participants and those with experience in Anne Green Gilbert's Brain-Compatible Dance Education teaching methods. The Refresher Course deepens understanding and expertise in BCDE and the BrainDance. It is designed for participants who have attended the two-week course or attended other in depth courses that Anne Green Gilbert, Terry Goetz, Anna Mansbridge, or Dionne Kamara have taught outside of Seattle. The Refresher Course increases confidence in applying the methodology of BCDE and gives participants the opportunity to develop new skills and tools for their teaching toolbox. The number of participants is limited.
Who is teaching: The one-week course is led by CDC Director Terry Goetz and Kaleidoscope Dance Company Director Anna Mansbridge. Full bios are available below. 
Special considerations: If you have not attended the Foundational two-week course but wish to take the Refresher five-day course because of time/work constraints, please email Terry Goetz (terry@creativedance.org) a brief resume or description of your education and teaching experience. Include your reasons for not being able to attend the Foundational two-week course. Your application will be considered.
Is this course for me?
The conceptual brain-based teaching methods of Brain-Compatible Dance Education can be used in any setting and with all ages – infants, children, teens, adults, and elders. BCDE enlivens any dance style/genre and has successfully been used in dance studios, college programs, homes, daycares and preschools, classrooms, community centers, and assisted living facilities all over the world! Past participants include dance educators, classroom teachers (elementary, middle, high school), fine arts educators, music specialists, occupational therapists, physical therapists, dance therapists, parents, college professors, teaching artists, and more! Join us and see why people have used these words to describe SDIT…
Enlightened ~ Life-changing ~ Glorious ~ Cohesive 
Non-judgmental ~ Transformational ~ Impactful ~ Outstanding ~ 
Remarkable ~ Inspiring ~ Comprehensive ~ Empowering 
Click here to read what former participants have to say about their experience at SDIT. Practical, useful, and transformative, this is SDIT! 
Who is teaching?
Creative Dance Center and Kaleidoscope Dance Company Founder, renowned dance educator, and author Anne Green Gilbert teaches the Foundational Course with New York City based dance educator Dionne Kamara. Afternoon workshops are often presented during the Foundational two-week course extending participants' knowledge and experience. Past workshop presenters include Kitty Daniels (Dance Department Chair at Cornish College of the Arts for three decades) and Kerri Lynn Nichols (master Orff-Schulwerk music educator and composer).
The Refresher Course is taught by Creative Dance Center Director Terry Goetz and Kaleidoscope Dance Company Artistic Director Anna Mansbridge. Terry and Anna have worked with Anne Green Gilbert since the late 1990's. Guest presenters during the Refresher Course include Anne Green Gilbert and Dionne Kamara. 
Read full bios of our amazing SDIT Faculty below.
What will I learn?
Our Summer Dance Institute for Teachers (SDIT) courses are designed to:
Increase understanding and application of Brain-Compatible Dance Education teaching methods and BrainDance;

Focus on National Dance Standards and State Essential Academic Learning Requirements;

Present kinesthetic activities that will increase academic learning and integrate body and mind;

Offer management techniques guaranteed to create a collaborative and positive atmosphere;

Strengthen modern dance and choreographic skills;

Extend dance knowledge and experience through a wide variety of afternoon workshops;

Provide opportunities for networking and rejuvenation!

Allow participants to take CDC classes at no cost in the evenings and observe Summer Session classes on Saturday
Workshop topics include:
Brain-Compatible Dance Education Teaching Methods

BrainDance and BrainDance Variations

Developmental Movement and Reflexes

Lesson Planning

Class Management

Creative, Modern, West African, Ballet, Creative Folk Dance

Core Support and Alignment

Accompaniment

Improvisation

Choreography and Composition 

Learning Styles  

Inclusion and Special Needs 

I

ntegrating Academics

Modes of Reflection
Both SDIT Courses allow participants to experience sample lessons based on Anne Green Gilbert's successful five-part conceptual lesson plan and the brain-compatible principles that underpin it. Discover how incorporating these principles into your teaching, workplace, or home can positively affect learning, focus, collaborative skills, and creativity.
Can I receive certification or clock hours?
While Anne Green Gilbert does not certify people in BCDE or BrainDance, we do offer a Certificate of Participation and Transcript of courses and hours attended upon full completion of the Foundational or Refresher Course.
Continuing Education credits and clock hours may be available for both the Foundational and Refresher courses. Please inquire about clock hour and credits in advance of the course start date to ensure the correct paperwork can be filed. 
Where can I find housing & transportation for my stay?
Each year we will add a PDF link here with a collective list of resources for finding housing (e.g. recommended hotels, convenient neighborhoods for AirBnBs) as well as transportation options.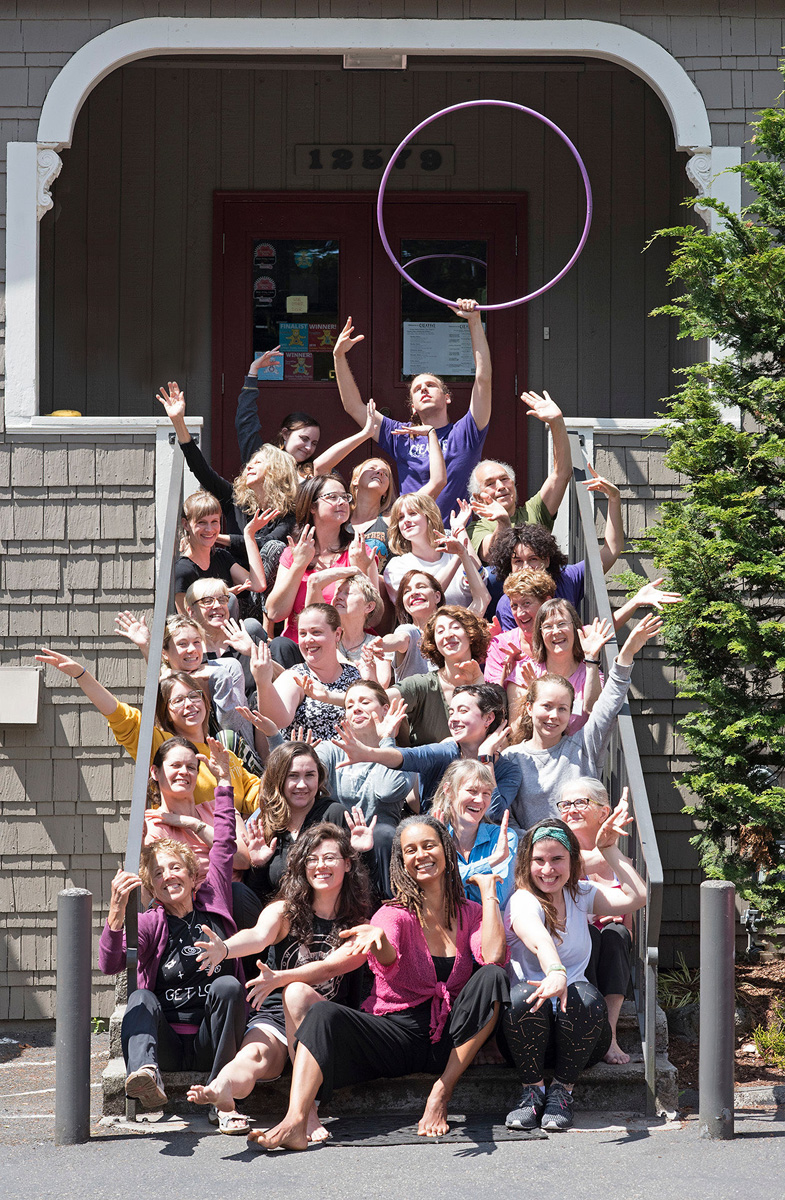 Words of Praise
"I truly can't say enough about this workshop series. It has given me a brand new teaching modality that will forever change my teaching. That the instructors were able to do as much as they did, clearly and concisely, with collaboration on Zoom is absolutely amazing!"
~ Online Summer Workshop Series Participant
Words of Praise
"It was so good to see how the instructors think through their class planning, how they build the lesson step by step connecting each part to the dance concept, and how they use the language of the dance concepts to support student learning and guide inquiry… even in a remote/online class!"
~ Fall Dance Institute for Teachers Participant
Words of Praise
"Simply amazing. Inspiring. Life changing. I was surrounded by a group of like-minded educators and it was a breath of fresh air. The teaching done by the faculty was beautiful. When the last session ended I just sat down and cried. I missed everyone already. I felt like I had connected with everyone, other classmates, and the wonderful teachers. It was an amazing highlight in an often dark time. Thank you! I am eternally grateful."
~ Online Summer Workshop Series Participant
Words of Praise
"I loved the course, connecting with other teachers, hearing directly from Anne about how she created BrainDance and learning from all of the instructors. Their generosity in sharing their knowledge was greatly appreciated. Thank you for it all."
~ Fall Dance Institute for Teachers Participant
Words of Praise
"Thank you so much for this opportunity and experience! I deeply appreciated the way each of the instructors modeled the methodology and provided us an opportunity to reflect and apply our learning. I also appreciated the Zoom tips and how Brain-Compatible Dance Education can transfer to a virtual practice. I would definitely sign up for more virtual trainings and look forward to when we can dance together in person."
~ Online Summer Workshop Series Participant
Words of Praise
"The workshops were really great and the content really useful and easily applicable. I also loved the warm atmosphere that there was throughout the course. Super happy I took the workshop series!"
~ Fall Dance Institute for Teachers Participant
Words of Praise
"The instruction was so strong. I was very glad to see how other teachers were working with their students online. There was a lot of content and it was great to see how to adapt the dance concepts to different age groups."
~ Fall Dance Institute for Teachers Participant